Today is the day I've
really
been looking forward to since Thanksgiving. Yeah, my birthday was fun, Christmas was good, and New Year's Eve was nice.
But today is the day when the Notre Dame Fighting Irish will leave their mark on college football history. Tonight, the undefeated Irish will take on the Alabama Crimson Tide (Seriously? I mean their name is
Crimson Tide
but their mascot is an elephant. What?
Irrelephant indeed.
) in the BCS National Championship Game in Miami. Sadly, I do not have a ticket to this game and thus I am not in sunny Miami. I blog today from my humble abode, but it's okay because I will be glued to the TV all night anyway.
Though Alabama is favored by a steep 9½ points, I feel pretty good about Notre Dame's chances. They've been underdogs all season. Who's to say they can't beat the odds again?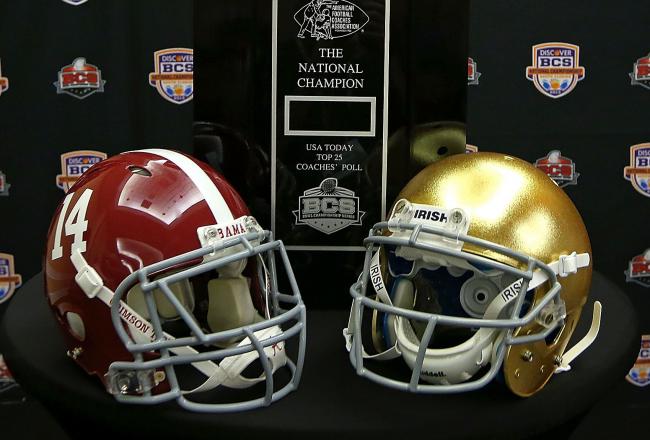 Here come the Irish!
In other news, I've been thoroughly enjoying my month-long Christmas break. It's been great to catch up with my friends and family and have a few adventures while I'm home. On Saturday, my family and I took a day trip up to New York City to see
Newsies
on Broadway, which was so great that I want to see it again.
Newsies at the Nederlander Theatre in NYC
That said, I'm looking forward to getting back to school, seeing my friends, and starting a new round of classes. I'll be back to my home under the Dome on Sunday, and my first day of classes is next Tuesday.
Well, I'm off to mentally prepare for the game. I'll leave you with these parting words:
"And don't forget, men, today is the day we're gonna win. They can't lick us, and that's how it goes." - Knute Rockne
GO IRISH! BEAT BAMA!